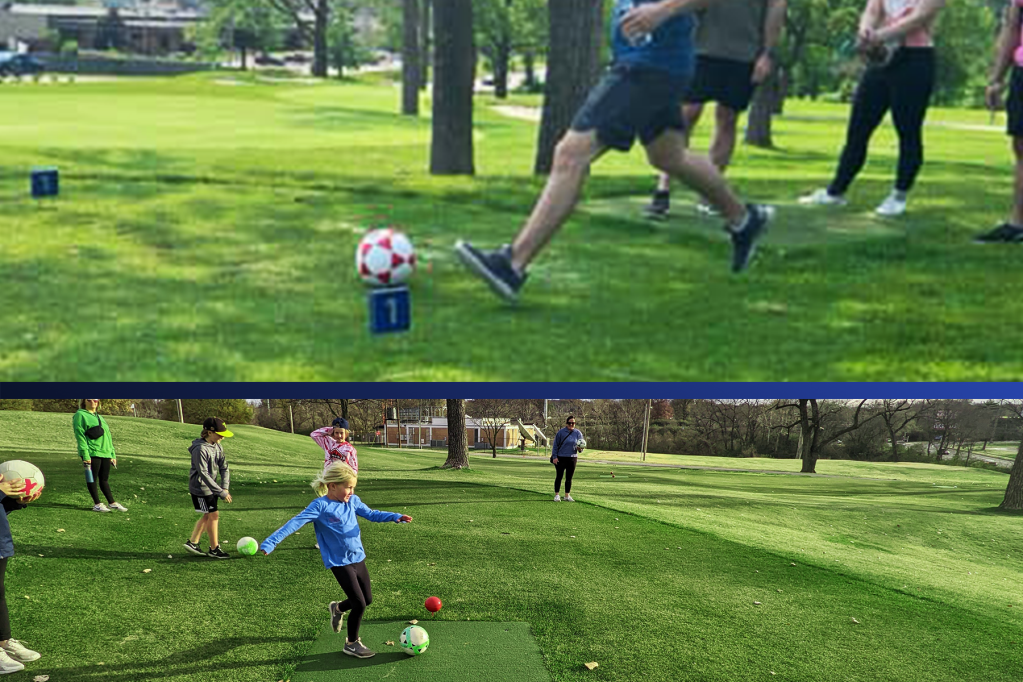 With St. Louis' love for soccer, what better way to hone your skills than on Tower Tee Golf & Recreation's footgolf course? Footgolf combines 2 sports that we love – golf and soccer. On our beautiful par 3 golf course you will use a soccer ball to play 9 holes following the Rules of Golf. Your goal? To land your ball in the 21″ hole in as few strokes as possible. Each kick counts for one stroke.
Our footgolf course incorporates two different courses (Course A and Course B) by offering different tee and hole options for those looking to play 18 holes or to simply change things up each time they come out to play. Enjoy fresh air and exercise with your friends, your family or your team. Parties and outings are available on our footgolf course as well so come on out to celebrate your birthday, graduation or any special occasion.
PRICES:
Footgolf Fee –
Adults – $10.00
12 & Under – $7.00
Soccer Ball Rental – $3.00
*All prices subject to change*
Footgolf Outing
Your outing includes greens fees and balls for 20 players.  $175.00
Note: Greens Fees for additional players will be $7.00 per player.  20 soccer balls will be provided by Tower Tee.  Additional balls are the responsibility of the customer.   
Rules of Footgolf
Only soft soled footwear is allowed. Players may not wear cleats or spikes.
Each player must have their own soccer ball. Rentals available.
Once your score reaches double the par, you have reached your maximum score. Please pick up your ball and proceed to the next tee.
No kicking off of the putting greens. If your ball should land on a putting green, please walk (don't run) onto the putting green and gently pick up your ball. Place it at least 10 feet off of the putting green, no closer to the hole.
You must kick all of your shots. You are not allowed to drag it or push it with your foot.
Click Here to View our Scorecard