INDIVIDUAL SELF-SERVE PER TOKEN (12 PITCHES) or RESERVE FOR TEAM RENTAL
* BATTING CAGE RENTAL MUST BE MADE AT LEAST 6 HOURS PRIOR TO ALOTTED TIME *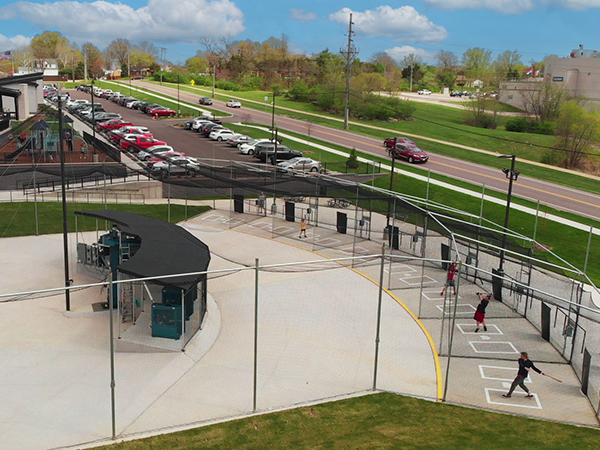 Click for Team Rental (Baseball (35mph))
Click for Team Rental (Baseball (40mph))
Click for Team Rental (Baseball (45mph))
Click for Team Rental (Baseball (50mph))
Click for Team Rental (Baseball (55mph))
Click for Team Rental (Baseball (65mph))
Click for Team Rental (Softball (Slow Pitch))
Click for Team Rental (Softball (Fast Pitch))
Newly positioned 8-stall extended monopole batting cages to provide a realistic practice experience for both baseball and softball. Our Iron Mike arm-style pitching machines are the favorite machines of professional players and coaches worldwide largely because of the pitching arm.
With each pitch you see the machine's arm wind up and release the ball. It is the realistic nature of arm-style pitching machines that allows you to practice the same fundamentals in our batting cages as you see on the field.
Because of this:
Players gain the advantage of seeing each pitch delivered as if from a real pitcher.
Players gain the proper timing needed with hitting to know when to start swinging and when to shift their weight.
Players learn the fundamentals and proper mechanics of a good swing.
Players learn to swing properly over and again.
AVAILABILITY:
Batting cages are available for use in dry weather when temperatures are consistently above 50 degrees.  Rain or wet surface may result in temporary closure of batting cages   
BATTING CAGE HOURS = 10 a.m. – 8 p.m. (Monday – Saturday) 10:00 a.m. – 6:00 p.m. (Sunday)
Fall Hours – 
BATTING CAGE HOURS = 10 a.m. – 8 p.m. (Monday – Friday) 10:00 a.m. – 6:00 p.m. (Saturday & Sunday)
Winter Hours – CLOSED
PRICES
Self-Serve 12 Pitches:  $1.00
Team Cage Rental Hour:  $40.00
*All prices subject to change*